Safety is Our Topmost Concern
Following the guidelines of the Board of Health and our New York Forward Safety Plan, students must arrive fully dressed for class with hair properly secured. Masks must be worn when entering and exiting the studio.   Class size is at less than 50% capacity   Private conferences must be made by appointment only.
RUSSIAN SCHOOL
Fusing elegance and athleticism, the training is designed to involve the whole body in order to create a harmony of movement and a greater range of expressiveness.
 ADVANCED LEVEL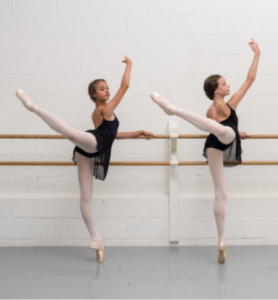 Technique classes are followed by stretching. The choreographic combinations increase in speed and complexity.  Since 1996, the performing repertoire contains many world classics such as Nutcracker, Sleeping Beauty,  Giselle, Don Quixote,  Swan Lake,  Les Sylphides, Paquita,  Cinderella,  Coppelia as well as original new works created by Venti Petrov and Svetlana Caton: Twinkle,  Eight Twenty,  Holy Cow it's Ballet!,  Domino,  Trials of Tamara, Snowmaiden,  Hansel and Gretel,  Alice's Adventures and much more… At this level, all dancers are on pointe.
Monday         5:30  to  7:00 pm      and      7:00  to  8:00 pm (Pointe & Variations )
Tuesday         6:30 to  8:00 pm
Wednesday   6:00  to  7:15 pm
Thursday        6:30  to  8:00 pm
Friday             6:30  to  8:00 pm
INTERMEDIATE LEVEL   
The training involves the whole body, in particular the flexibility of the upper back and turn out from the hip join.  As the students gain strength, pointe work is introduced.  Character dance and ballet history are added into the curriculum. Students join the LB Trainee  Performing Company.
Tuesday          5:00  to  6:15 pm
Thursday        5:00 to 6:15 pm
BEGINNER LEVEL 
                                                                               
Students learn to execute all movements passing through the prescribed  Ballet Positions and the Turn Out is introduced and required.
Saturday       11:30 am  to  12:30 pm
PRIMARY LEVELS
Young children classes are the cradle of their future achievement, both for physical and mental development.  The early dance experience has a lasting effect. Structured classes stress good posture, physical coordination and musicality.
Saturday      12:45 pm  to  1:30 pm
OPEN CLASSES for TEENS and ADULTS
The open classes are ideal for the individual (ages 11 to adult) who has taken Theater Dance, Gymnastics, Skating or for someone who is returning after a long interruption. These classes can benefit anyone who wishes to gain strength and grace or simply become a better dancer.
Wednesday        7:30 pm  to  8:30 pm
Friday                 5:00 pm  to  6:15 pm